Pregnancy Chiropractic in Baton Rouge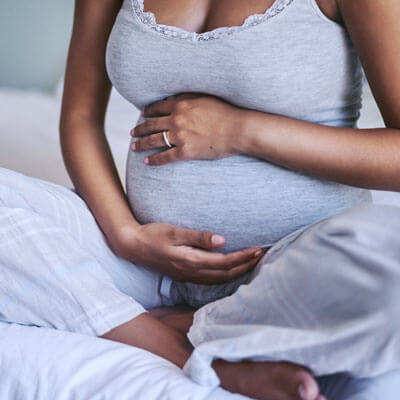 Although an exciting life-changing event, pregnancy is often accompanied by significant discomfort. As medication is often not advised during pregnancy, many women seek drug-free pain relief. Natural, safe and effective chiropractic care can allow moms-to-be to enjoy the happy and healthy pregnancy they deserve. At Community Chiropractic, Dr. Wolverton has been caring for pregnant patients since 1985 and uses gentle adjustments.
Removing the Roadblocks
While pain is what brings new moms in the door, the pain is the tip of the iceberg. It's an indication that something isn't working properly. Dr. Wolverton looks for subluxations in a mom's spine and removes that nerve irritation to allow more free nerve expression so the body can function optimally. When a mom is healthy, her baby can be too.
NEW PATIENTS »

Benefits of Chiropractic During Pregnancy
Our natural care may help
Reduce feelings of nausea
Reduce labor and delivery time
Reduce lower back pain, neck pain, and joint pain
Prevent a C-section
Lower the risk of preterm delivery
Reduce the need for pain medication during delivery and pregnancy
Moms recover faster
Frequently Asked Questions
Is chiropractic safe for my baby?
Yes, Dr. Wolverton gently adjusts pregnant patients. At no time is your baby placed at risk.
Do you have special tables that make the adjustment more comfortable for pregnant women?
Yes, we have tables that feature a drop-away section that allows Mom to lie on her stomach.
When should I start getting chiropractic care?
You can come in pre-conception or any stage of pregnancy. Chiropractic may benefit you at every stage. Some of Dr. Wolverton's patients stopped by the practice on their way to deliver their babies.
What are some benefits of postnatal chiropractic care?
Postpartum women also have continued high levels of relaxin in their bodies from pregnancy, particularly if they are breastfeeding. The higher levels of relaxin can cause instability in the spine and joints, resulting in a higher tendency to have spinal misalignments. Chiropractic care can help realign the spine and pelvis to ensure optimal functioning of the nervous system. New moms often experience back and neck pain from lifting their baby, reaching into the crib, breastfeeding, etc. Drug-free chiropractic care can provide pain relief during the postpartum period.
Book an Appointment
Contact us today to schedule an appointment.
CONTACT US »

Pregnancy Chiropractic South Baton Rouge, Oak Hills LA | (225) 767-3151